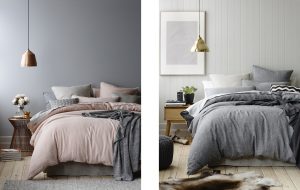 Photography – Derek Swalwell
Today we chat to the bed styling queen Bek Sheppard to find out her top tips!
We spend so much of our time in bed, in fact if we are getting the recommended 8hrs of sleep (we wish) that equates to one third of our lives!!! So since we are practically living in bed do you know how to get the most out of your bedroom?

TELL US A LITTLE ABOUT YOUR BACKGROUND AND WHAT DREW YOU TO STYLING?
I've been styling for the past five years since completing my diploma of visual merchandising at Swinburne. I knew early on in my studies that I wanted to be a stylist and feel so fortunate to be able to live that dream.
I really do feel blessed to be part of such a great industry as I have the opportunity to work with great clients and gorgeous product. I think the key for me when styling is to create a look and feel that is not only enticing but also truly inspiring.
WHAT ARE YOUR TOP TIPS FOR CREATING THE PERFECT BED?
QUALITY
I think it's so important to buy quality products when purchasing your bedding and linen. You spend so much of your time in bed that it really has to be a place of relaxation and comfort. I always opt for products that are designed well and use a range of natural fibres. By choosing natural fibres you can be assured that you will have a comfy sleep all year round as the fabric can breathe. This means you will be warm and cosy in winter and not overheated in summer.
LAYERS
Layers are the key to making a bed look so enticing that you just want to dive right in! I create this look by having an assortment of pillows and cushions, complimented with a gorgeous coverlet, quilt and throw. Especially in winter go nuts with it, layer until your hearts content! Big chunky knits with lots of colour and texture will definitely keep those winter blues away!
TEXTURE & COLOUR
ALWAYS play with texture and colour! These two elements are central to creating an interesting room! To get inspiration for colour schemes flick through interiors mags, design blogs and trawl Pinterest. We are so fortunate here in Melbourne to be surrounded by so many inspiring homemaker hubs. Get out there and scout out your local boutiques and retailers to see what Melbourne has to offer in the way of beautiful design.
YOU
Last but not least put your own stamp on it. Ask yourself what your bedroom is about and how you want it to make you feel. It's really important to give it some personality and look at how your bed works in with your lifestyle.

Photography – Felix Forest